Euros and the US. 😅
- via Pepe Escobar, Telegram pic.twitter.com/8lABewuDMy

— Seeji Sundarakshan (@Sseeji) August 30, 2022
sonar21 | Just like Wile E Coyote, the United States and Europe are discovering that their incredibly "clever" plan to punish Russia with draconian economic sanctions is backfiring. And it is backfiring with a vengeance.
In Europe, things are markedly worse. The UK and Ireland are grappling with soaring energy costs that are forcing many small businesses to shutter their operations:
One such owner is Geraldine Dolan, who owns the Poppyfields cafe in Athlone, Ireland – and was charged nearly €10,000 (US$10,021) for just over two months of energy usage.

The cost of electricity to the Poppyfields cafe for 73 days from early June until the end of August came in at €9,024.70 an increase of 250 per cent in just 12 months. There doesn't include the €812.22 in VAT, which brought her total bill to €9,836.92.

It has left Geraldine Dolan wondering if she will be able to continue running the business she has owned for the last 16 years as Ireland heads into what is certain to be a winter of rising energy prices and cost of living spikes.

https://www.irishtimes.com/ireland/2022/08/30/athlone-cafe-owner-shocked-after-getting-9000-electricity-bill-things-are-only-going-to-get-worse/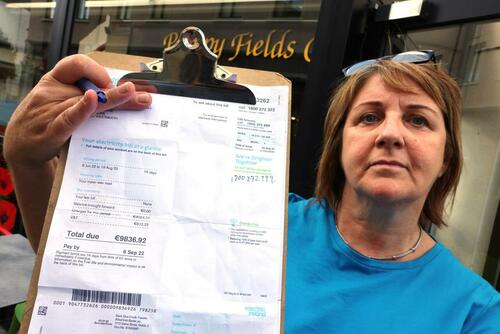 Zerohedge reports that this is not an isolated event:
In short, small businesses are getting utility bills that are 10 times what they were paying a year ago. Most are going to be forced to shutdown operations.
Things are no better in Germany and Slovakia:
Zinc, Aluminum Smelters Shuttered In Europe Due To Soaring Power Prices
"A Structural Rupture" – German Companies Shutting Down In Response To Record Energy Prices
As the FT reports, German manufacturers are halting production in response to the surge in energy prices, a trend the government has described as "alarming". German economy minister Robert Habeck said industry had worked hard to reduce its gas consumption in recent months, partly by switching to alternative fuels like oil, making its processes more efficient and reducing output. But he amusingly clarified, some companies had also "stopped production altogether" — a development he said was "alarming".

"It's not good news," he said, "because it can mean that the industries in question aren't just being restructured but are experiencing a rupture — a structural rupture, one that is happening under enormous pressure."

Habeck said rising gas prices were affecting everyone from big industrial companies to small trading firms and the medium-sized enterprises that make up the "Mittelstand". "Wherever energy is an important part of the business model, companies are experiencing sheer angst," he said. And since energy is a crucial part of every business model, one can only imagine the chaos, fear and loathing hammering the largest European economy right now.
Meanwhile, the Russian economy is doing okay. That is because it produces energy and commodities and metals that the world needs. It is not dependent on imports to stay afloat. And, the sanctions notwithstanding, Russia continues to export oil, gas, fertilizer and grains.