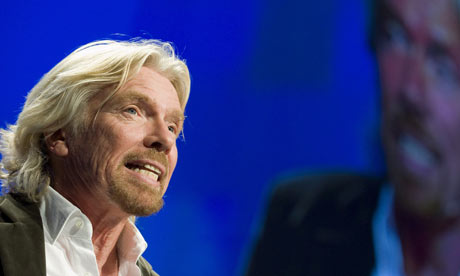 Guardian | Sir Richard Branson, founder of the Virgin Group, will say the coming crisis could be even more serious than the credit crunch. Photograph: Peter Schneider/EPA
Sir Richard Branson and fellow leading businessmen will warn ministers this week that the world is running out of oil and faces an oil crunch within five years.
The founder of the Virgin group, whose rail, airline and travel companies are sensitive to energy prices, will say that the ­coming crisis could be even more serious than the credit crunch.
"The next five years will see us face another crunch – the oil crunch. This time, we do have the chance to prepare. The challenge is to use that time well," Branson will say.
"Our message to government and businesses is clear: act," he says in a foreword to a new report on the crisis. "Don't let the oil crunch catch us out in the way that the credit crunch did."
Other British executives who will support the warning include Ian Marchant, chief executive of Scottish and Southern Energy group, and Brian Souter, chief executive of transport operator Stagecoach.
Their call for urgent government action comes amid a wider debate on the issue and follows allegations by insiders at the International Energy Agency that the organisation had deliberately underplayed the threat of so-called "peak oil" to avoid panic on the stock markets.